Monar, Poland – test
Mobility of Staff
Adult Education
Monar, Poland 
Ecett event of Argo in Thessaloniki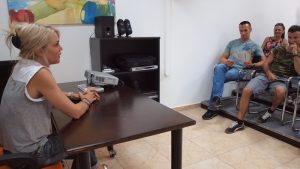 We wanted to let you know that on Tuesday 11/07/2017 ARGO hosted an event where we presented the partnership between ECEtt and ARGO and six of the Erasmus+ participants that received ECEtt traineeships talked about their experiences in Phoenix Futures and Magdalena and presented their GPs to the audience. The event went well and we thought we'd send you some pictures and the flyer we made (althought it's in Greek…). We are now closing this particular project and we are getting ready to start the next one next autumn.
Bulletin n°16

The editorial was written by Christophe Thoreau, Director of Trempoline, Belgium and Nicolas Bourguignon, Directeur of Le Flauve, CEID, France.
Chief editor: Elena Nikolova, Solidarinost, Bulgaria.