"The WaB Network: an initiative created by and for addiction workers"
By Amélia Ramackers from Réseau WaB (Belgium)
SUMMARY: The WaB Network brings together different types of addiction services every month to cooperate and compose care pathways for users with complex and chronic situations for whom there is no or no longer any alternative at local level.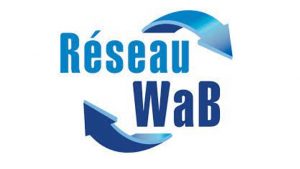 Observation: 
Some addicted persons have great difficulty finding their place in the care system or wander from one service to another, in disorder and without progressing.
History
In 2003, Trempoline organised a training course based on G. De Leon's "integrated systems approach" (ISA). The professionals who participated in the ISA training created the WaB Network in March 2007 in a bottom-up dynamic. The Walloon Region and Brussels-Capital grant an annual subsidy to WaB for the hiring of a network coordinator.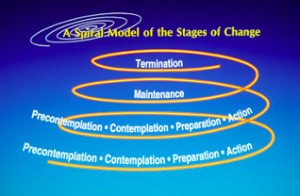 Theoretical support
The WaB network refers to two theoretical models:
Georges De Leon's Integrated System Approach (ISA), which identifies ten stages related to the process of change in an individual. ISA aims to build a network of care services that offers addicted people a continuous process of change with intermediate goals that converge towards the same end: full recovery.

Prochaska and DiClemente's model, which identifies the stages of a process of change related to a person's motivational state and which should be considered in a circular perspective with possible round trips. The intervention of a specific structure will depend on the motivational state presented by the subject, with each service helping its users to progress to the next stage.
Target group
Any drug dependent person who, due to his or her psychological, psychiatric, physical or administrative situation, or due to a referral from an institution, can no longer find answers to his or her need for help from the services in his or her region. 
The services facing these deadlocks are also the beneficiaries of the WaB Network.
The WaB Network has 19 partner services ranging from low threshold to high threshold: street work, outpatient services, emergency accommodation, shelters, hospital detox services, therapeutic non-residential or residential communities.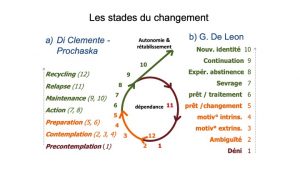 Aims 
To develop good practice in cooperation between all support services 

To facilitate communication, inter-professional and inter-institutional dialogue.

Continuous training of WaB Network members.

Evaluation of the services offered by the WaB Network.

Transpose the WaB model to other sectors than addiction.
Clinical concertation, an innovative tool: 
A monthly clinical concertation day is organised between professionals (without users), to develop care pathways taking advantage of the diversity of resources represented in WaB, this meeting is itinerant through all partner services.
The agenda includes new Inclusions, re-inclusions, follow-ups and exchanges of good practice.
Service users have to sign an informed consent and fill in the inclusion form.
After the consultations, the professionals propose several possible care pathways to the users. 
Example of proposed care pathways for a street user who is "included":
1st care pathway: Transit (short-term emergency accommodation) to settle down, Maison d'Accueil to find accommodation, detox at Revivo (hospital) then aftercare at Trempoline (therapeutic community).
2nd care pathway: if not accepted at Revivo, the St Bernard Psychiatric Centre is OK to wean him off before he enters Trempoline.
3rd care pathway: once in Trempoline, if things get stuck, a reorientation to Hautes Fagnes (therapeutic community) is possible.
Reasons for inclusion: 
Lack of local resources.

Exhaustion of local resources, referrals, multiple relapses, inadequacy.

Wish to change geographical area.

Urgency of the situation.

Accompaniment requested by the user.

Accompaniment requested by the professional.

Other.
Results since 2008:
58 clinical situations are discussed per month and mobilise more than twenty professionals from the 19 structures currently members of the network 

111 users in the active file. 

621 users were included, i.e.  3 x 621 care paths proposed.

54 users have died

30 tools have been created since the creation of WaB (folder, cadastre, evaluation,…).

Transposition of the WaB model to 3 sectors: social defence, homelessness  and unemployment.

Computer database.

Website: www.reseauwab.be
User profile
The users are mostly men between 30 and 44 years of age, often with a long history of drug use and complicated institutional histories as well as legal and/or mental health problems.
Addictions: alcohol (87%), cocaine/cannabis (80%) and heroin (67%).
Impact of the network
Positive improvement on 4 levels: socio-administrative situation, consumption, medical situation and psychological situation.
88% positive impact on users' care trajectories 

84% of the users think that the WaB care is good or excellent.

94% of professionals in the field group are satisfied 
Write to contact@ecett.eu if you want to get in touch with the author: Amélia Ramackers