Innovation
After an internship abroad they introduced innovation on their workplace
Youth

Innovation at l'Amarrage after an Ecett intership at APGSE, Le Mans (France) 
"Break Stays", Cap Solidarité ww.amarrage.be
We did this internship in 2007 and for 48 hours, Bernard Lesbros and his wife explained and shown us how are running the "Break Stays" they organized in Africa for teenagers with complicated behaviors. Break Stays of the APGSE last one year and their work philosophy is analytical while our approach is systemic but the results seemed positive and this practice convinced us. Upon our return, we have therefore adapted this good practice to our reality.
Addictions
The PAO (reception and orientation Phase) asbl Phoenix (Namur) after only two days of training at Ceis in Italy!
Our internship in the COD (Orientation and diagnosis Center) of Modena in Italy in 2013 enabled us to observe the operation into a therapeutic community for day, with dual diagnosis drug-dependent people. The observation home phase is limited to two interviews while in the Ceis, this is a period of one month in the community.
After a little more than a year of implementation, the PAO is entered in the normal operation of the team. Generally colleagues who were initially reluctant to this new operation was conquered, so much so that some have forgotten that the DTP is a transfer from an Ecett internship in Modena.
Social Work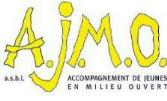 Interview on innovation launched by AJMO – Home Family – ORS
"Words rather than kicking"
In April 2014, four Ecett interns left from Charleroi (Belgium) for a grouped internship at "Relais Sénart", Vert-Saint-Denis (France) of the ORS (assistance to litigants).
They have reported a good practice:"Word for children and parents exposed to domestic violence groups" which inspired them to innovate in Charleroi.