Home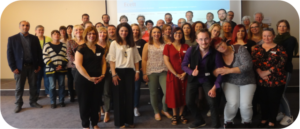 A group of six Belgian associations working in the rehabilitation of psychiatric patients organized a consortium around the ALISES association. Their goal was to exchange practices with their colleagues in Europe. This project, supported by Erasmus +, enabled 26 trainees to receive Mobility grants to exchange practices with colleagues in Italy, Spain, France and Greece. At the final event in La Louvière Belgium (23 May 2019), some 40 colleagues took part in workshops of exchange of good practices reported by trainees. The main themes were :
peer-support (experts of life experience)
multidisciplinary network work
the opening of centers to life in society
The event closed with a gift of Ecett certificates to all those who had presented their good practice.